Hedges form an important part of any garden, but to look their best they need to be trimmed every year. Some slower growing hedges, like 'Box' or 'Yew', can stand a little pruning neglect but species such as 'Leylandii' will quickly become untidy and unmanageable, leading to increased maintenance costs in future.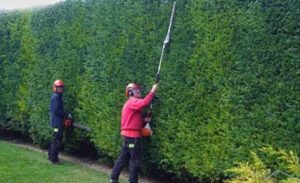 LET THE SPECIALISTS HELP
Once your hedge reaches above the height where you can easily manage it yourself, you need specialist tools and equipment, and a large compost heap! Let A G Trees look after your hedges, so you can sit back and enjoy.